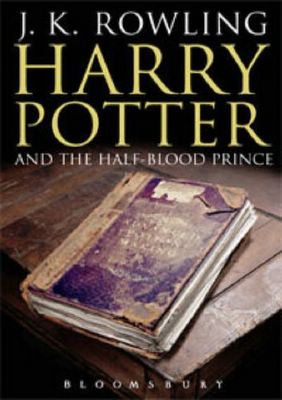 "Matt's holiday reading '05"
Harry Potter and the Half-Blood Prince
J.K. Rowling
Reviewed by Matt Adcock
OK - I'll admit I'm not the biggest Harry Potter fan in the world but I have read them all so far and even though I thought that Order of the Phoenix was dull and vapid, I picked up Half Blood Prince for a no brainer holiday read (in sunny Spain on the gorgeous coastline south of Barcelona, seeing as you asked)...
Is it any good? Yeah - maybe the sun, sea and wine helped but I really got into this one. Harry as a teen is fun, the sheer amount of snogging makes for a change and finally Rowling has the guts to off a major character - if you don't want to know who it is stop reading now -
DUMBLEDORE DIES!!
And who is the half blood prince?

Snape (who actually kills Dumbledor)...
It's a fun breezy read, with a couple of mildly exciting bits and less dull sections despite its length (over 600 pages). I do kind of wish that there was an 'adult' version where the teens weren't quite so prim and proper as to be less believable and the action was more graphic but I guess those are just two of the reasons that I'm writing Darkmatters - which is coming along nicely (and you'll hopefully soon be able to see the exclusive 'teaser trailer' for that has been filmed and is being edited even as I post this...)
Yes I'll be reading the next HP book, and I am looking forward to the Goblet of Fire film too (link)...
Darkmatt Rating: ööö (second best of the series so far)
Try some Darkmatters - my forthcoming novel:
Darkmatters Cleric Artwork
A Brief History Of Darkmatter
Cleric Shows Up
Fear Of Death
Film Scene - gun battle
Test Subject #30022
Cleric Gets Mugged