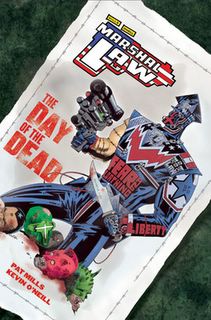 "overkill doesn't even begin to describe it"
Marshal Law: The Day Of The Dead
by Pat Mills & Kevin O'Neill
Reviewed by Matt Adcock

"They say I don't pray for my enemy. I do. I pray they go to hell."
These are the sentiments of Marshal Law - super hero hunter with a very mean streak...
From the legendary creative team of Pat Mills (Judge Dredd, Slaine, A.B.C. Warriors) and Kevin O'Neill (Nemesis, League of Extraordinary Gentlemen etc) comes the hero to end all heroes. . .literally! Showcasing the very best work from the cream of British comics creators, Day of the Dead is a welcome return of a classic '80s antihero.
It is the none-too-distant future: The Government has publicly endorsed a genetics program, designed to create a new race of superheroes. A war against South America has left many of those "heroes" dead. . .but not enough. Now, men and women with super-powers run rampant. The public's greatest icons hide dark secrets. One man stands between the city and they Abyss. His name is Marshal Law, and he is a hero hunter. Day of the Dead sees Law up against Suicida a psychotic ex colleague – you just know it will end in tears, oh and unpseakable amounts of violence (and it does).

Darkmatt Rating: öööö (cool)