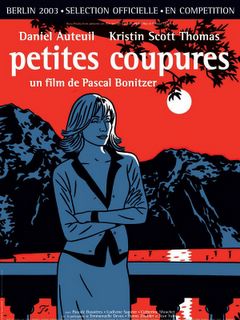 "hardcore comic book violence... not"
Petites Coupures
Dir. Pascal Bonitzer
Reviewed by Matt Adcock
You can't go wrong with a bit of arty French film can you?
This is a comedy-drama only really works because it makes good use of the talents of both an increasingly befuddled Daniel Auteuil and the enigmatic Kristin Scott-Thomas. The freewheeling storyline lurches from one event to the next, aided by little linking features – a lipstick, a gun, a ring – whose only object is to create situations, move them forward and give a form of continuity to the film.
Cinematically very nicely shot - shaded in both light and dark tones but it does get a little tiresome simply due to the fact that not very much happens (and for once the cracking Ludivine Sagnier doesn't strip off - as she has been want to do in films like Swimming Pool but fortunately didn't as the new incarnation of Tinkerbell in Peter Pan!?)
Worth watching if you like relationship studies, this film reminded me of how fickle we human beings can be and that Petites Coupures (tiny cuts - of the title) can sometimes wound far more than intended.
Darkmatt Rating: ööö (nicely made but bit dull)
Read some more of:
Matt Adcock's Film Reviews
"that hat looks daft even in this cool blue filtered shot"