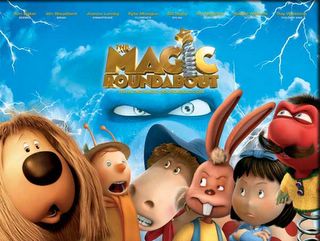 "the sinister cold blue eyes of death... they're behind you!"
The Magic Roundabout (u)
Dir. Dave Borthwic



Reviewed by Matt Adcock

All is quiet, it's teatime and before you know it Zebedee utters those immortal words: "Time for bed children."
But 'Boing'… Suddenly, as if by magic… Kylie Minogue is telling you that they're "coming to get ya" – a talking sugar addict dog, an opera singing cow, a stoned bunny and a wacky wizard with a spring instead of legs, man I think I've been eating too much sugar myself…
It's true though – just when you thought it was safe to take a trip back 30 years to a place of innocence and fun – here comes the super slick all singing, all dancing, all action CGI Magic Roundabout. Yes, some brave filmmakers have taken on the daunting task of updating the British teatime favourite (originally from France) which was once the 2nd most popular show on the BBC – behind the news!!
How on earth could this work? And who invited the lovely Kylie to not only voice Florence but also knock out a catchy Magic Roundabout single for the soundtrack? A genius team of Dave Borthwic, Jean Duval and Frank Passingham actually – and they've pulled off a minor miracle here. Aided by the superb voice cast of Tom Baker (Zeebadee), Jim Broadbent (Brian the snail), Lee Evans (Train), Joanna Lumley (Ermintrude), Ian McKellen (Zebedee), Bill Nighy (Dylan) and Robbie Williams (Dougal).
And there's even a plot of sorts: the Magic Roundabout lies in ruin after an evil ice sorcerer Zebadee has escaped to freeze the world. Step up some unlikely heroes, Brian, Ermintrude, Dylan and Dougal to challenge the chill by recovering three magic diamonds.
Okay, so the plot might as well have been from a computer game and it is all a bit far removed from the genteel original but it's just mad to see Dougal and crew trekking over fiery volcanoes, jungle temples and snow-capped mountains. Plus McKellen manages to instil the spirit of Gandalf into Zebedee and even gets a heroic 'fall from a high pass' scene after battling his icy nemesis Zeebadee. This leads to Dylan almost quoting Pulp Fiction with "Zeb's dead babe, Zeb's dead"; this and some of the original's trippy substance references will keep adults of a certain age smiling.
What can I say? I was amazed at how much I enjoyed this slight bit of nonsense, maybe it was sheer nostalgia but then my son Luke loved it too which I wasn't expecting.
Come on – to the roundabout!!
Darkmatt Rating: öööö (magic)
"I'm going to get that Polar Express piece of crap"