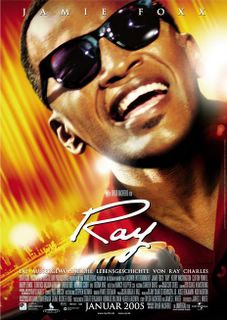 Ray (15)
Dir. Taylor Hackford

Reviewed by Matt Adcock

"Baby, when I walk out that door, I walk out alone in the dark," these are the emotive words of Ray Charles – a man who overcame the odds to blow the world away with his sheer musical talent. Now his life explodes onto the big screen in an emotional biopic covering his rise from a desperate childhood to become one of the most successful musical entertainers the world has ever witnessed. When he said "I'm trying to do something ain't nobody ever done in music and business," he wasn't kidding and amazingly, the only thing more extraordinary than his music was the man behind it.
There is a lot of buzz about Jamie 'Collateral' Foxx's Golden Globe award winning performance of the late great Ray Charles – and for once it's all justified. Foxx is stunning, delivering an acting tour de force that should have Mr Charles smiling from beyond the grave at just how well his life has been recreated here. It's quite a life too – I guess you don't get to be survived by 12 children, 21 grandchildren, and 5 great grandchildren without having a significant interest in the opposite sex. And that's another credit to the film – it doesn't whitewash over the fact that Charles was actually a philandering junkie who spent years addicted to heroin and couldn't walk past an attractive woman without cheating on his wife… Be that as it may, what shines out though is that of all his selfish vices he was mostly a slave to the music that welled up from inside him and just couldn't be contained. Misunderstood by many, Charles had his music branded "blasphemous" because he dared fuse traditional Gospel with R&B, he was also resented by the friends who helped get him going and yet he easily discarded as he outgrew them. Director Taylor Hackford intersperses his life story with some powerful flashbacks of Charles's awful childhood, the untimely death of his younger brother and the loss of his sight. Strong stuff.
Ray might be a deep vein thrombosis baiting 152 minutes long but I was hooked from the beginning and found that the time flew by (Foxx really is that watchable – which bodes well for next year's Miami Vice film where he will be 'Tubbs').
So, you might not like blues, jazz or R&B but you'd be a fool to miss this inspiring and unforgettable true story of human triumph.
Darkmatt Rating: öööö (good)
Click here to read Matt's other:
Film Reviews
"damn it woman, my nuts are trapped in the keyboard"